On the Senate floor today, U.S. Senator Josh Hawley (R-Mo.) lambasted President Joe Biden for waging a "phony culture war" while ignoring the chaos unfolding in Afghanistan as a result of his administration's failed withdrawal. Senator Hawley also called out Democrats in Congress for looking the other way on Biden's failed withdrawal, saying he will "force the Senate to actually vote on Joe Biden's nominees for leadership positions in the Departments of State and Defense. In the face of this crisis, in the face of this debacle, the least the Senate can do is vote."

During his speech, Sen. Hawley also detailed a timeline of what key administration figures – Secretary of State Antony Blinken, Secretary of Defense Lloyd Austin, Chairman of the Joint Chiefs of Staff General Mark Milley, and National Security Advisor Jake Sullivan – were focused on in the weeks leading up to their disastrous withdrawal from Afghanistan.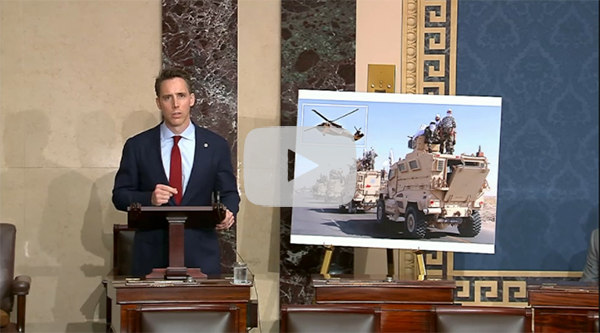 Full remarks can be seen here, or click the image above.
"They were interested in using the military as a social experiment rather than respecting it as the war fighting institution it was built to be," Sen. Hawley said."Rather than making decisions that were sound in tactics and sound in strategy, Joe Biden and his team were aiming to please their radical, woke progressive base. And Americans paid the price."

Sen. Hawley went on to conclude, "It may be an inconvenience to the Democrat leader, it may be an unwanted responsibility for the supporters of the President, but it is our job nonetheless. Americans have died. Americans have been abandoned. The nation deserves an accounting. And it is not too much to ask the Senate to do its job. It is not too much to ask the Senate to get the truth. And it is not too much to ask the Senate to force accountability for this terrible crisis that this President has disgracefully led us into."